About Us
BrandNet, the team behind Air Force Shop, has been working closely with the Australian Defence Force for more than 30 years.
We are proud to have been part of many significant moments in the lives of Air Force personnel, their families and friends.
Air Force Shop offers easy and convenient access to a wide range of Air Force branded and approved products;
from gifts, graduation & farewell presents, uniform items, field gear, medals and more.
We are experts in Air Force product design and development, and we work closely with the Air Force Brand Management team
to create items that adhere to Air Force's branding requirements and regulations.
Our artists and designers are approved by Air Force to reproduce heraldic insignia and have even redrawn official unit and base crests on behalf of Air Force.
Our expert team creates stunning bespoke pieces for units, exercises and special events. We have produced commemorative items for many special events and ceremonies,
including supporting Air Force merchandising, branding at the Avalon International Airshow, and in 2021, supporting the Air Force Centenary.
Air Force Shop has a wide range of ready-to-go products to suit all occasions. You can simply add your unit or custom brand to any item in our impressive range, or work with our design and development team to create something new – it's what we do! We are trusted by the Chief of Air Force to promote Air Force's brand.
Air Force Shop is standing ready to provide you with the advice and support you need to make your next project a success!
Our Support
BrandNet, the owner and operator the of Air Force Shop, has proudly worked with the Australian Defence Force for over 30 years. It has been our honour to support the milestone event of the Air Force Centenary.
The Air Force Centenary
Artwork commissioned by BrandNet for the Air Force Centenary resulted in the stunning masterpiece Then. Now. Always., created by leading military aviation artist Drew Harrison. Presented to and accepted by Chief of Air Force Air Marshal Mel Hupfeld, AO, DSC on behalf of the Air Force, the stirring piece encapsulates the history of Air Force over the past 100 years and looks ahead to the future. The artwork is displayed with a poignant message from Air Marshal Mel Hupfeld, AO, DSC, Chief of Air Force, reading:
'On the occasion of the Centenary of the Royal Australian Air Force as it continues reaching for the stars. Per Ardua Ad Astra'.
Just one of the many pieces created for the Air Force Centenary, BrandNet is proud to run the official online shop of the Air Force Centenary. We are also proud to support the restoration and preservation of historic RAAF aircraft through the Air Force Centenary products, safeguarding history for the next 100 years.
Supporting Others: The Royal Australian Air Force Welfare Trust Fund
Continuing the tradition of supporting others, BrandNet group is one of Australia's largest private donors to military and service-linked charities, with proceeds from Air Force Shop going towards the Royal Australian Air Force Welfare Trust Fund. We have donated $182,216 to the Royal Australian Air Force Welfare Trust Fund to date, and we hope to do more.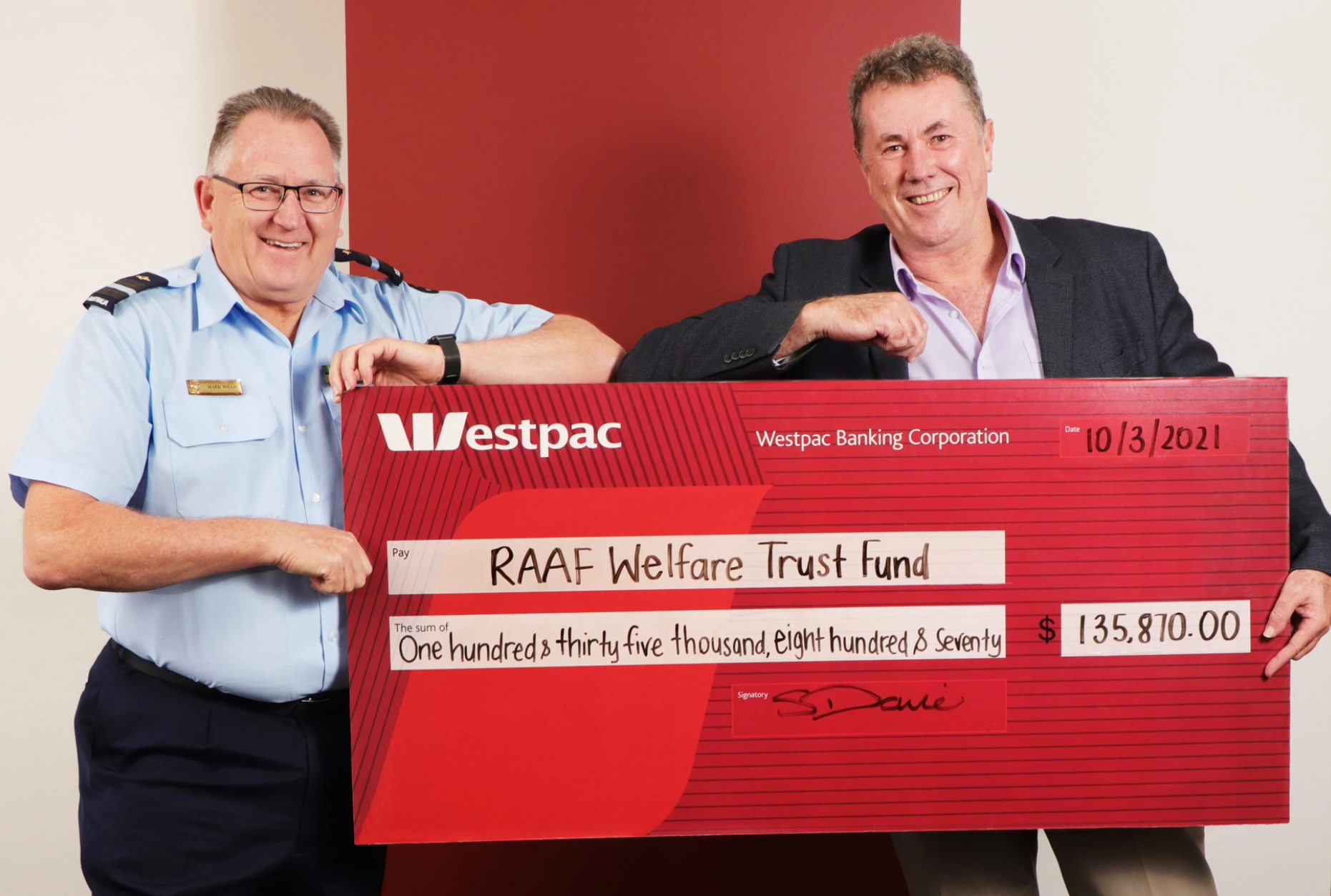 A further donation in November saw a joint effort of the centenary retail partners donated a wonderful $138,796.
The cheque was presented to Director General Air Force 2021 Air Commodore Andrew Elfverson to support RAAF Heritage Restorations.
Our Proudest Moments
Our Latest Products