Iconic Aviation Collection - Catalina
☰

The Iconic Aviation Collection
Part Five: The Catalina.
The fantastic fifth instalment in the Iconic Aviation Collection. Commemorate the iconic Catalina patrol flying boat, one of the most important aircraft in the early stages of the war in the Pacific for the RAAF. Often flown at night and painted black, these aircraft earned the nickname 'Black Cats' and cemented their place as an iconic RAAF aircraft. Drew Harrison's beautifully detailed artwork Black Cat in the Shadows captures the Catalina on a night operation. Explore the sensational limited edition Catalina collection and secure your piece of the collection now.
Walk through the full collection with our expert team.
Black Cat in the Shadows.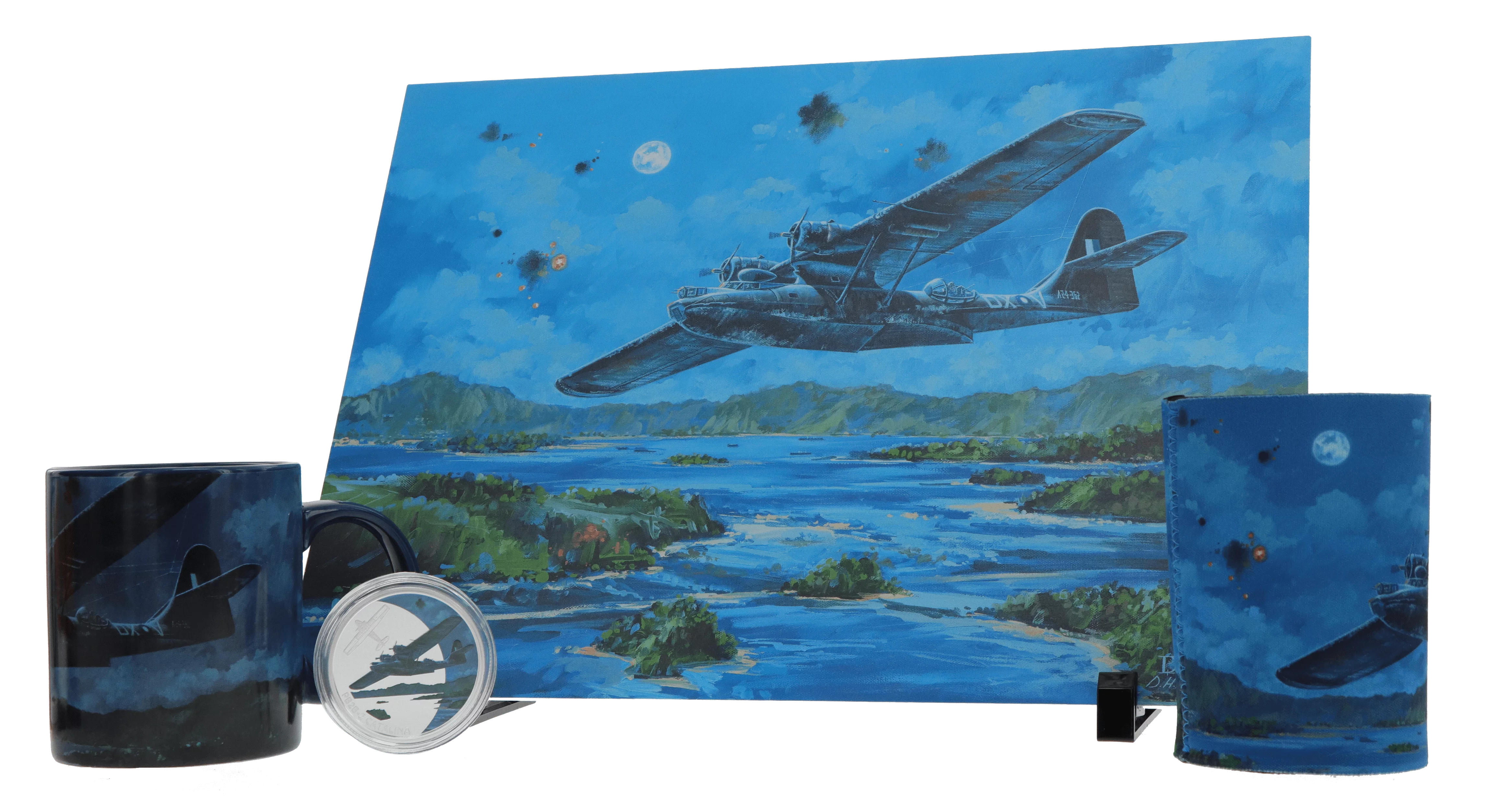 IN EARLY 1941 THE RAAF ACQUIRED A SMALL NUMBER OF CONSOLIDATED PBY CATALINA PATROL FLYING BOATS.
Their extreme range made them an ideal platform for many other missions, and they were consequently forced into action in the long range strike role for the opening stages of the Pacific War. Due to the Catalina's slow speed, later combat operations were flown at night which necessitated painting the aircraft all black for concealment. These soon became known as Black Cats. 43 Squadron RAAF was established as a Maritime Patrol unit equipped with the Catalina in early 1943. By 1945 the squadron continued flying many types of operations including harassment against targets of opportunity across the South West Pacific. On the 21st July 1945 F/Lt John Paine and crew, in a late model Catalina PB2B-2, A24-362 (OX-V), searched for targets of opportunity in the Sawu Sea and generally harassed enemy installations. The same pace of operations continued right up to Japanese capitulation in August. As a tribute to A24-362 and 43 Squadron RAAF, Catalina PBY-6A (VH-PBZ) operated by the HARS Aviation Museum is currently in the markings of this wartime aircraft.
An artwork you don't want to miss.
Own the captivating artwork Black Cat in the Shadows from Drew Harrison presented on solid aluminium. Depicting one of the most valuable aircraft during the early stages of the war in the Pacific, this striking artwork is a stunning recognition of the Consolidated PBY Catalina patrol flying boat. Presented here on 3mm solid aluminium, serving as a nod to the manufacturing of these unique aircraft, with a great display stand and wall hooks. Limited edition with only 250 releases worldwide, do not miss your chance to own this beautiful artwork.
$169.00
ORDER
The medallion for you.
Commemorate the Air Force Centenary with this stunning proof quality medallion, limited to only 500 individual releases.Featuring the beautifully detailed Catalina from Drew Harrison's Black Cat in the Shadows, this wonderful medallion captures the long-range aircraft at night during the opening stages of the Pacific War. Completing a range of operations, these slow-speed aircraft were flown at night, resulting in a black painted exterior and earning the nickname 'Black Cats'. Commemorate this important aircraft with this limited edition medallion now. This medallion is part of the Iconic Aviation Medallion set of six, perfect for completing your collection.
$45.00
ORDER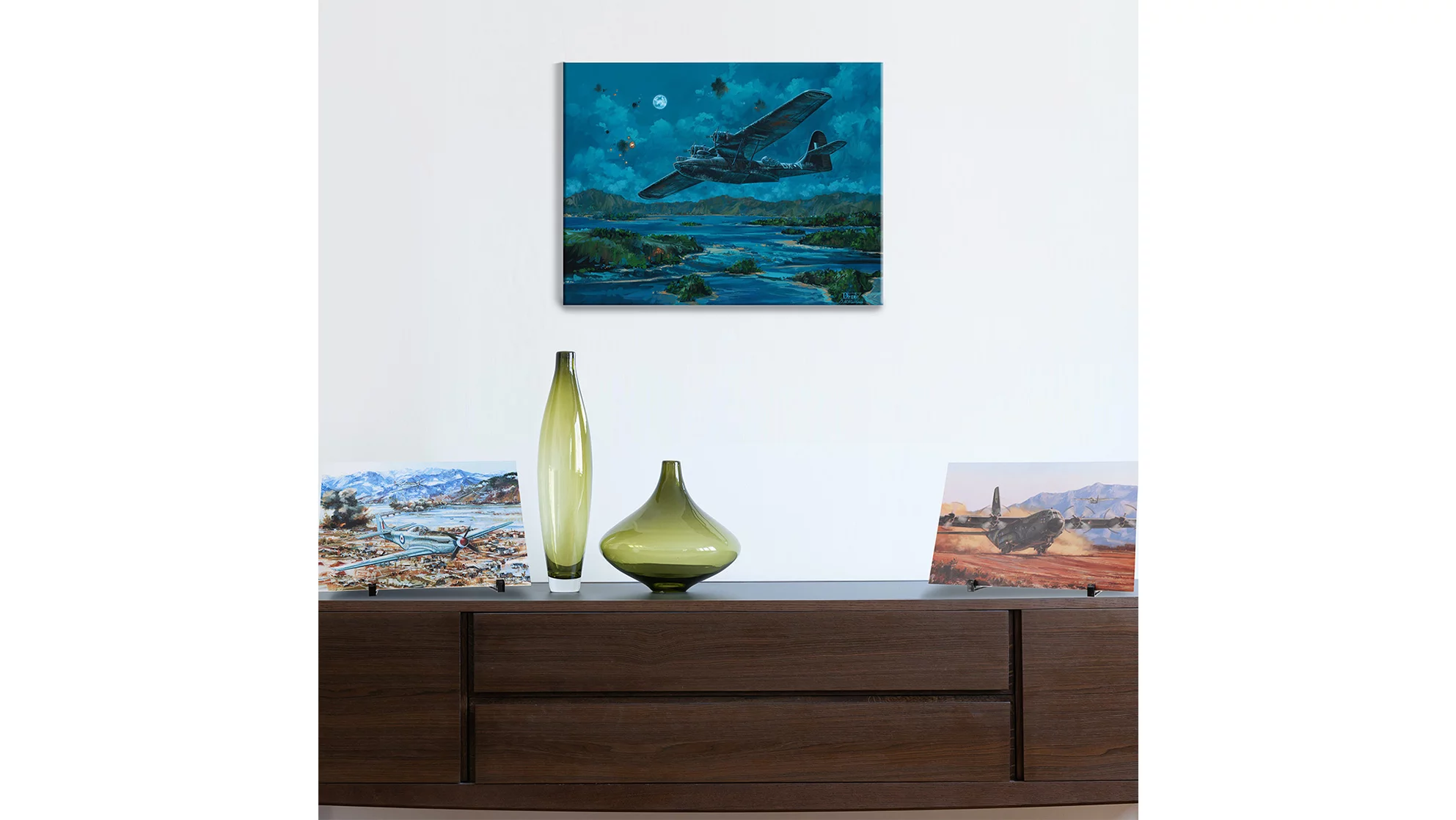 A masterpiece for your space.
Limited to 100 copies, this superb reproduction of Drew Harrison's Black Cat in the Shadows is faithfully replicated using the latest scanning and printing methods. This canvas artwork is an ideal showpiece for your office or home. Printed on Hahnemühle Daguerre Canvas it is acid and lignin-free and when printed with pigment inks, meets the most exacting requirements of age resistance, fade tested up to 75 plus years. Measuring 600mm x 450mm and hand-signed and numbered by Drew Harrison, secure your copy of this precise replica now.
$249.00
ORDER
Hand-signed and perfectly replicated.
A print of this beautiful artwork is perfect for your space and makes a sensational gift for yourself or a loved one. Printed using archival inks on 310gsm True Rag Etching Paper, these artworks are museum quality and tested not to fade for over 75 years. With the full sheet measuring 700mm x 550mm, this vibrant print is presented with a limited-edition certificate of authenticity and in-depth artist note. A beautiful collector's item, secure one of the 250 limited edition prints now.
$195.00
ORDER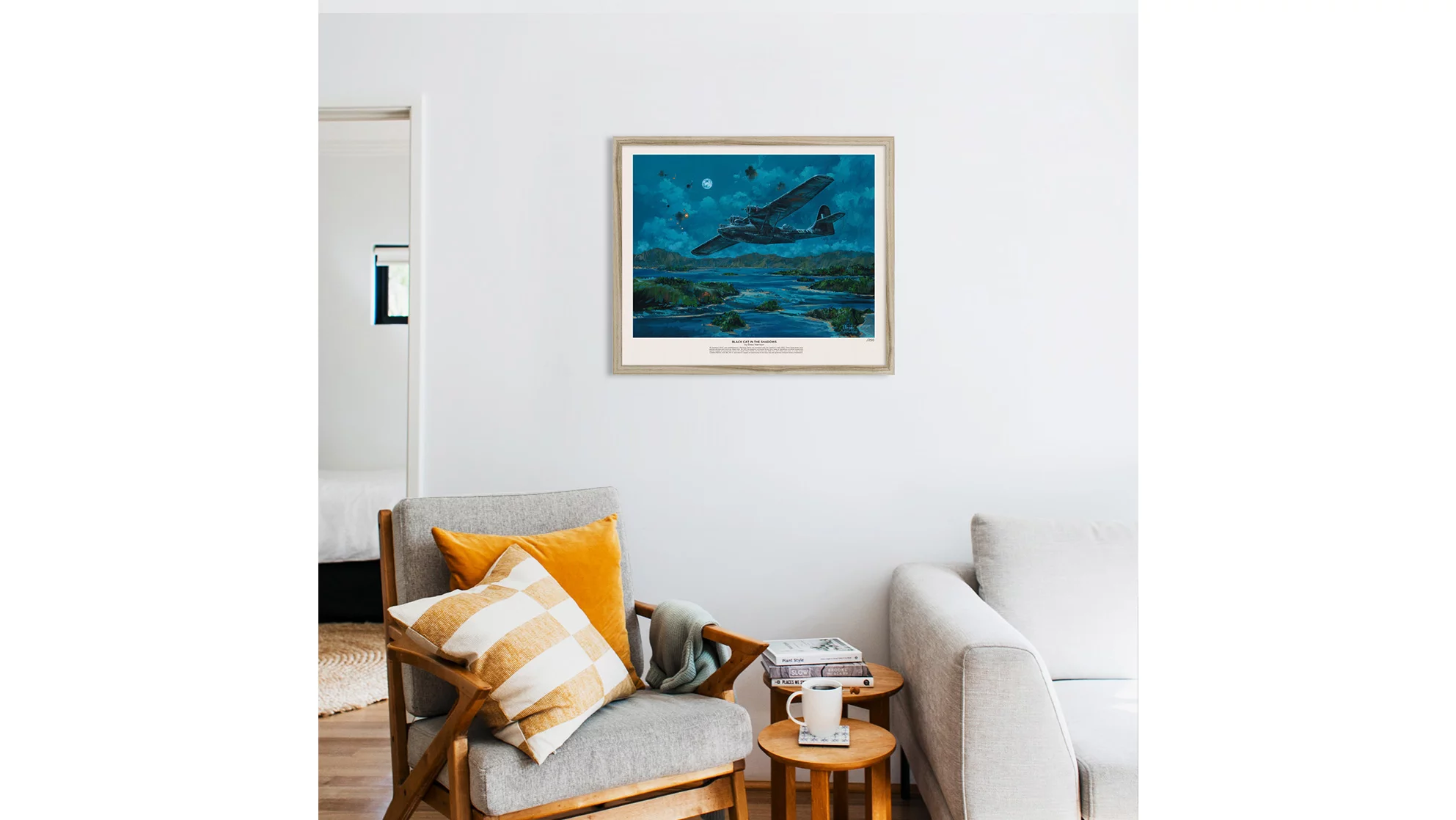 Add art to your morning.
Keep beautiful artwork into your kitchen with the stunning limited edition coffee mug featuring Drew Harrison's Black Cat in the Shadows. A wonderful coffee mug featuring a schematic of the Catalina in the base and fantastic limited edition touches. Created from durable ceramic, with a scratch-resistant finish and easy grip handle this limited-edition mug, one of only 1000 available worldwide, is perfect for your home or office. This beautiful mug is also part of the complete limited edition set of six, the perfect gift for your home or your loved ones. Explore the complete collection below.
$15.00
ORDER
Your next barbeque staple.
Stunning artwork for the everyday. A perfect drink cooler to commemorate the Catalina. With Drew Harrison's spectacular work Black Cat in the Shadows wrapping around the outside of the cooler and limited edition details and a schematic of the aircraft on the inside, this drink cooler is the perfect addition to your camping, barbeque or sporting event setup. This stunning drink cooler is part of a complete set of six, get a cooler for the whole family. Explore the complete limited edition set below.
$10.00
ORDER
Need the complete collection? Discover our Iconic Aviation Limited Edition Sets now.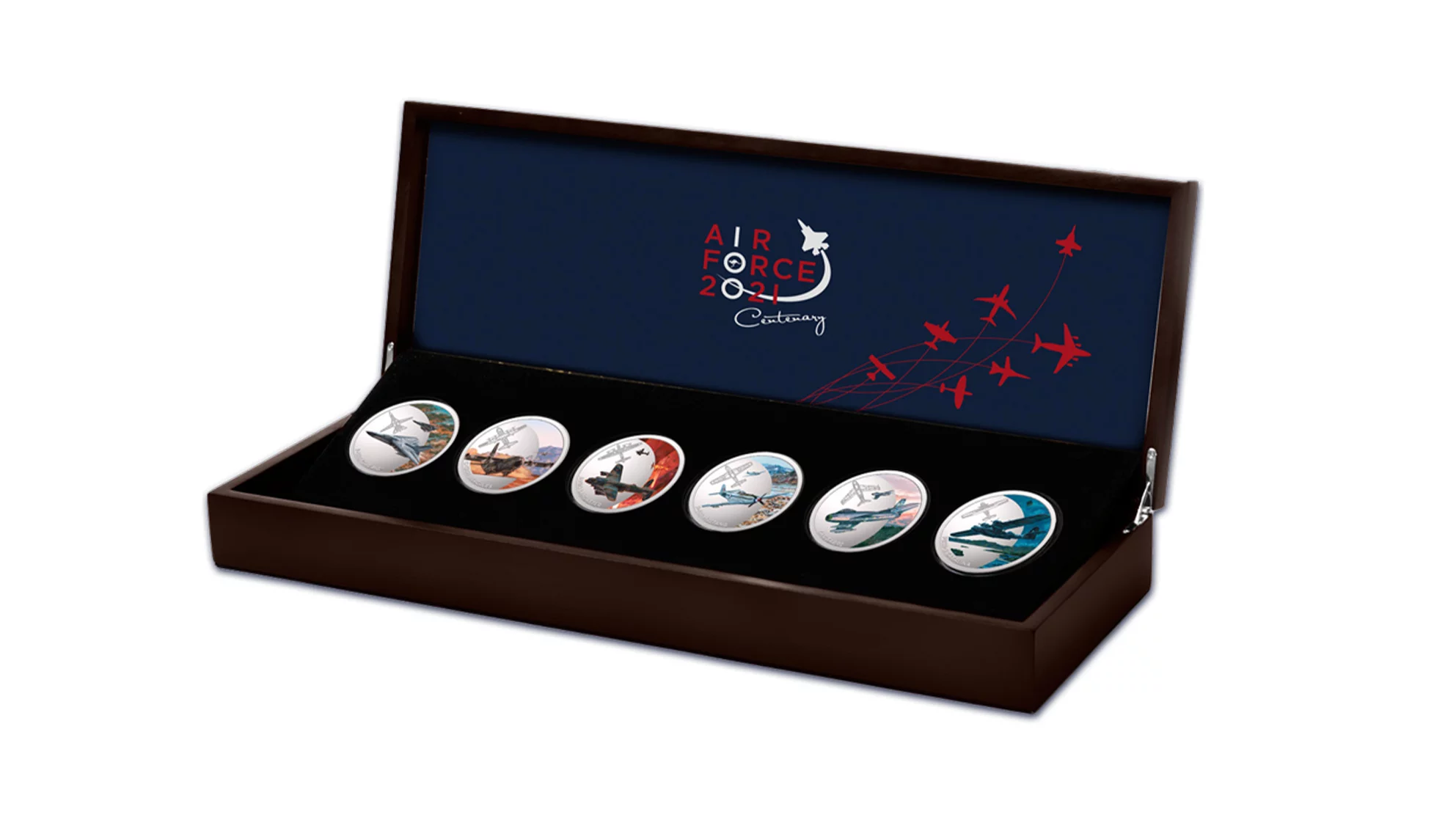 Air Force 100 Iconic Aviation Limited Edition Medallion Set of 6 .
The striking Air Force 100 Iconic Aviation Limited Edition Medallions. A wonderful collection to commemorate the Air Force Centenary.This limited-edition proof-quality set of six new medallions commemorating iconic RAAF aircraft features stunning extracts from Drew Harrison's unique artworks. Minted from brass alloy and finished in highly polished silver, these stunning medallions capture snapshots of the range of aircraft operated by the RAAF over the past century. Featuring full-colour renderings from the artworks and raised schematics of each aircraft, this set is not to be missed. Only 1000 sets are available, secure yours now. Order early to secure the lowest numbers.  
$225.00
ORDER
Set of Six Limited Edition Coffee Mugs by Drew Harrison.
The complete collection of limited-edition coffee mugs features the beautiful new artworks by leading Australian military aviation artist Drew Harrison. Complete with a schematic of each aircraft in the base and limited-edition details, these stunning mugs capture snapshots of the wide range of aircraft operated by the RAAF over the past century. With only 1000 sets worldwide, secure a set of all six striking mugs, perfect for any home or office. Order now.
$90.00
ORDER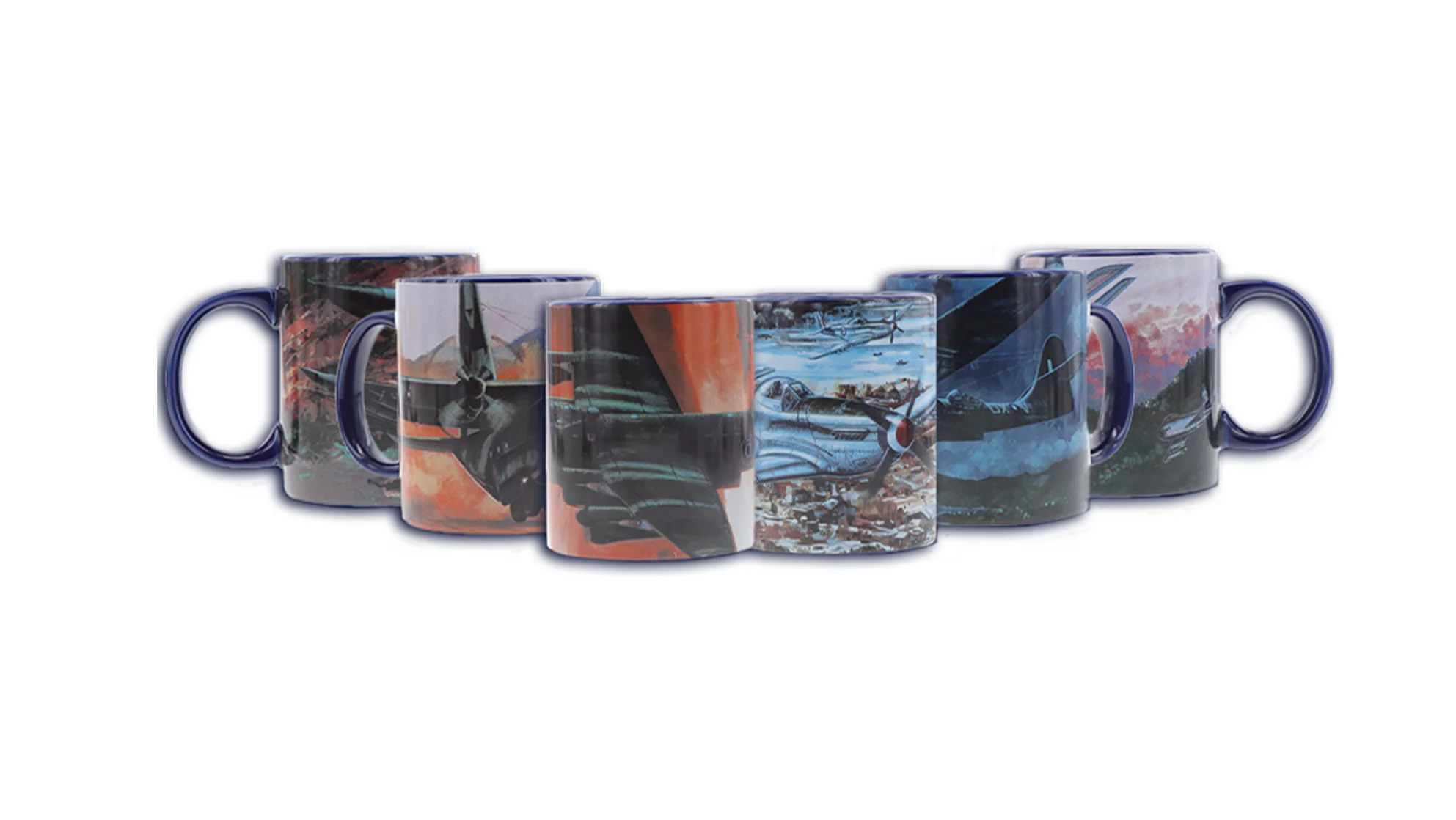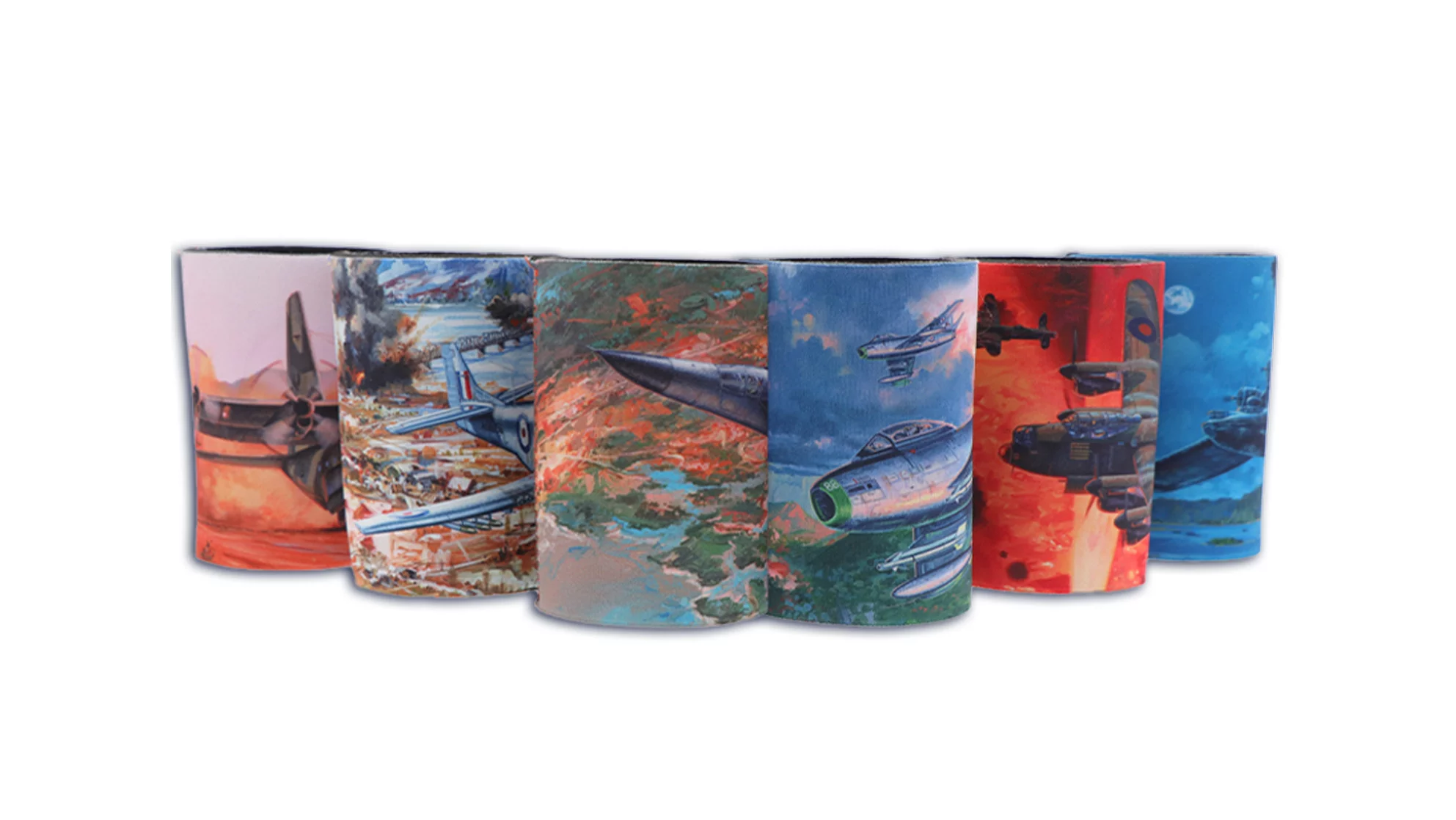 Set of Six Limited Edition Drink Coolers by Drew Harrison .
The collection of the six iconic limited edition drink coolers featuring the stunning artwork of Drew Harrison and depicting some of the most recognisable aircraft of the Air Force. Limited to only 1000 sets. With schematics of the aircraft and limited-edition details inside, these stunning coolers capture the range of aircraft operated by the RAAF over the past century in beautiful detail. Only 1000 sets are available worldwide, so secure these drink coolers now and be the envy of everyone at your next barbeque. Do not miss out.
$60.00
ORDER
About the Artist:
Drew Harrison is one of Australia's leading military aviation artists. Based in Adelaide, South Australia, Drew is an award-winning practising professional artist and an acrylic paint specialist.
Creating artworks that are characteristically unique and a fresh take in the military art space, Drew has a meticulous eye for the incredible detail and accuracy captured in his paintings.
Drew was previously commissioned by the Air Force Shop to create an artwork to truly memorialise the magnificent milestone of the Air Force Centenary.
Continuing our wonderful relationship with Drew, six new works have been commissioned, creating highly researched and beautifully detailed artworks of six iconic aircraft operated by the RAAF.

Discover our other fantastic collections
and celebrate all things Air Force.
HISTORIC COLLECTION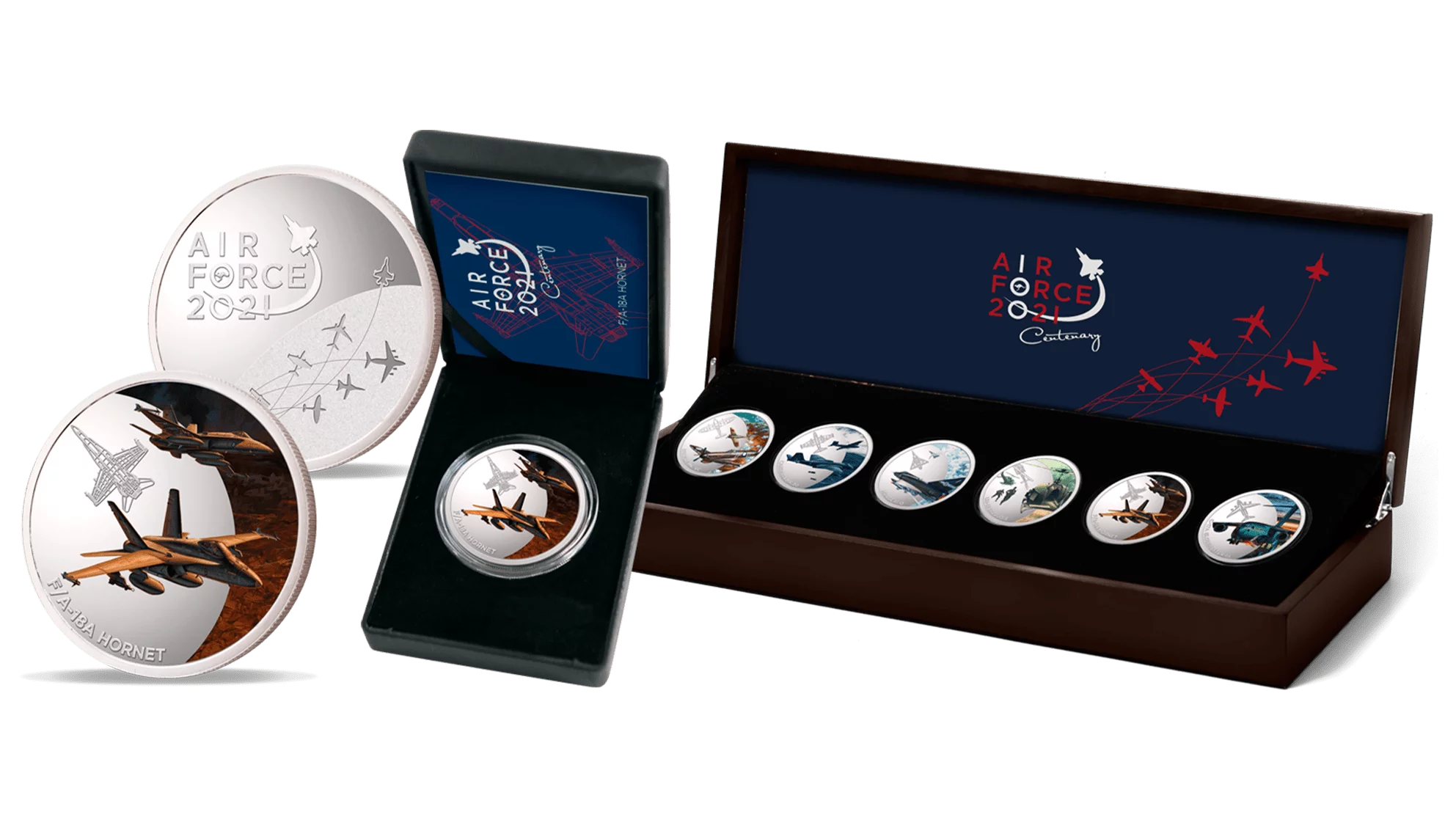 EXPLORE THE COLLECTION
HERITAGE COLLECTION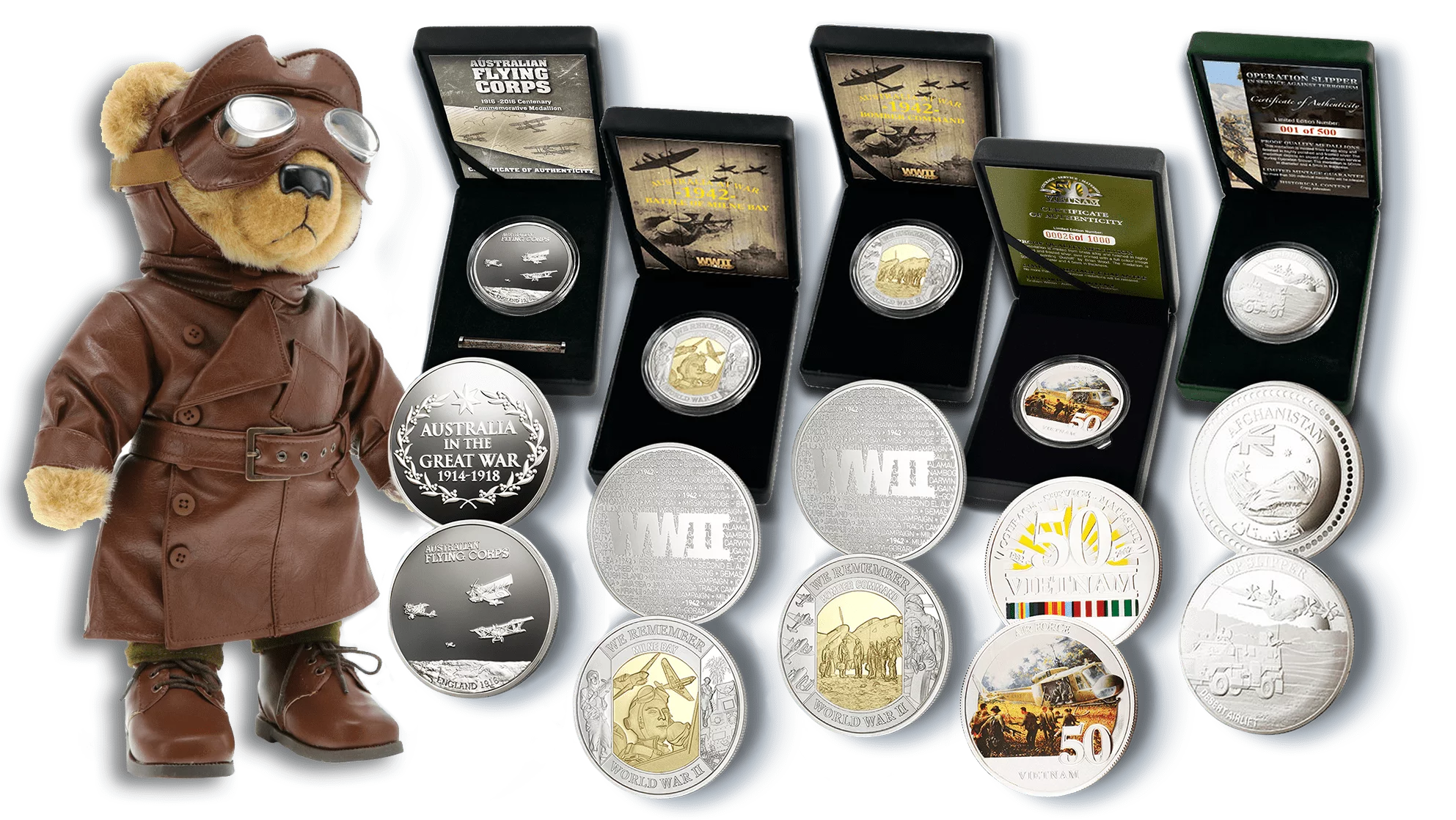 EXPLORE THE COLLECTION
AIR FORCE 100
EXPLORE THE COLLECTION